I made cupcakes late last night or early this morning, depending on how you look at it. A really
nice person
asked me to make them for a baby shower that she's giving her friend. I can't even begin to tell you how excited I was. I adore making cupcakes. I just didn't realize until last night, I was in way over my head. She picked this
simple style
and asked for pink and brown, the color scheme of the baby shower. "Of Course!" I say. "Easy Peasy," I say. Well, I certainly learned I have a lot to learn. It's one thing making a few dozen cupcakes to share with your husband's co-workers, or friends. It's entirely another thing to make them for a baby shower. For a precious little baby arriving. I just really wanted them to be perfect.
And now it's back to the kitchen aid mixer. My son's birthday is today and I'm making him some fabulously spooky cupcakes. He wants
werewolf cupcakes
and it IS his birthday. I may need a nap later.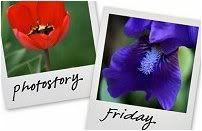 Hosted by Cecily and MamaGeek