November is the month of Thanksgiving. December is Christmas and January brings with it a new year. I love the end of the year. Not only does it give me a good reason to wear adorable scarves and comfy sweaters, but I'm also able to put the crud of the old year behind me and start anew. This year has been rough for a number of reasons. I'll share.
Reason #1: The biggest doozie of them all. My husband was injured while serving in Iraq. It's something that was life changing and covers us like a soggy wet blanket. Things are getting better, but the reality of how fragile we are smacked my family in the face this year and it's going to take awhile (who knows how long) to recover. My husband is recovery well physically. Emotionally? We're all still working on that part. Fortunately together.
I kept a journal on
Caring Bridge
and I thought I'd share some of it here. Most of the entries were emails sent to family and friends to update them on how Mike was doing after he was injured.
Tues. March 4, 2008 10:18pm
I'm not sure that all of you know the following information, but most of you do. I apologize for the abruptness of this email if you haven't heard. I wasn't able to call everyone. Mike was injured yesterday morning by a roadside bomb in Iraq. He was on foot, so his leg sustained most of the injury. He did have surgery almost immediately after the incident and they removed all of the shrapnel(
I was misinformed
.
He still has shrapnel throughout his body, but they did remove the stuff that was going to cause problems with veins and arteries).
Most of the damage was to his veins in his left leg. Since that surgery, he has stabilized and moved to a hospital in Germany.
I was able to speak with him a couple of hours ago and he sounded in good spirits, considering. He has yet to walk on the injured leg and at this time we're not certain how long recovery will take but the doctor said he should make a full recovery. He did sustain injuries to his head and face, and he has stitches that will leave scarring. The doctor informed us that he will be flying out of Germany and heading to Walter Reed hospital on Friday. We're not certain at this time how long his stay will be there.
From Walter Reed he will travel back here to Fort Campbell, where he'll be in the hospital for an unknown duration. He will more than likely have many doctors appointments and much physical therapy, as well as counseling for himself and the family. Please keep us in your prayers. We're grateful for all the many prayers you've already said in our behalf. I'll try to keep you updated the best I can.
Thurs. March 6, 2008 10:21pm
Some of you may or may not have received my first email. If some of this information is repeat, I apologize. As you know, Mike was injured by a roadside bomb on Tuesday morning (our time). He is currently at Landstuhl Regional Hospital in Germany. He mentioned that the staff at Landstuhl are treating him like gold. He's in very good hands. He is tentatively scheduled to fly to Walter Reed in Washington D.C. tomorrow. When I spoke to him this morning, he sounded much better. The doctors have removed him from oxygen, which is a good sign considering most of his major injuries are vascular. Right now, he's in stable condition and his vitals are good. He is still listed as Seriously Injured and will remain in ICU. The army will make arrangements to fly me to Walter Reed as soon as he is on the plane from Germany. At this time, things could still change with his travels and mine, but I'll keep you all updated by email on his status. Thank you all for your thoughts and prayers. I've mentioned to Mike how concerned you all are and it has definitely lifted his spirits to know that you all care and love him. Thank you all so much.
Friday, March 07, 2008 10:22pm
I thought I would send a quick email to let you all know that I'll be flying out of Nashville this afternoon. Mike left Germany this morning and will arrive at Walter Reed this afternoon. I haven't spoken to him since last night but he was anxious to get back home. I'm not certain at this time how long I will be staying there with him, but my ticket is open ended. Job and Belle are staying with a friend here at Ft Campbell until I return. There are many things that are unknown to us right now and we covet your prayers. Thank you all so much for your caring words and loving thoughts. Hopefully, I'll be able to give you all good news before the weekend is out.
Needless to say, the four days I had to wait before I could get to where he was were the most emotional moments of my life. I suppose I hoped that I'd forget most of those moments. I haven't.
More to come. Along with Reason #2.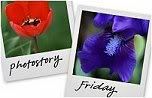 Hosted by Cecily and MamaGeek