I just have to blog about it! I can't believe I didn't go see it sooner. I took my daughter to see it today. Words can't begin to explain the expression on her face when I told her we were going to the movie theater to see it. She immediately wanted to call all of her friends to invite them with us. She's really sweet like that. So, we did. We called
Mrs. Stephanie
(because we knew she'd love it!) and
Mrs. Cheri and Savana
.
My favorite part was Belle trying to contain herself in her seat when she wanted to get up to dance and sing along with the movie. We should have, but there were people sitting behind us.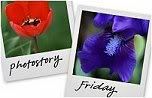 Hosted by Cecily and MamaGeek
Update: I just realized how creepy I look in that picture. Conversation with 9year old...
Me: Do I look creepy in that picture?
Job: With the red eyes...you look kind of like a vampire.